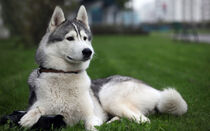 Kodias of Aversky is the leader of the Band. She is a Siberian husky and has brave heart. She loves her brothers and wishes them the best, along with her friends. She lives with Aversky Wolf Pack but when she, her brothers, and Daarick were rejected as members and thrown out, Kodi struggles to find forgiveness for Aquillo. Her best friend, pet,
Snowpaw
, helps her out to maintain level ground.
Personality
Edit
She is a leader (She shares that role with her brother Kai), and is very smart, but not as smart of Kai, she is very skilled with a bow, but not much else. She loves her brothers and her tom Snowpaw, and will do almost anything to keep them safe. Her adoptive 'father' Daarick, struggles to keep her feisty attitude contained, especially after Aquillo tears Kodi's heart apart when he doesn't come to Kodi and her siblings' Coming-of-Age ceremony.
Here's an exerpt from the original description, DO NOT edit or change.:
"Kodi is a dog, probably a husky, maybe some wolf. She was found with her two brothers Kai and Kristopher, whom all three were tucked in a blanket snuggly in a basket sling.
Kodi is confident, smart, coordinated, and good with archery. She is also resourceful, but knows how to have fun! She shares leadership with her brother Kai. 
Like her two brothers, she likes to swim, unlike her breed. Kodi is given the honor of killing Evelicrion, the great Red Dragon (of Doom), but she gives credit to her two brothers.
She has a pet tom, named Snowpaw."